San Rafael Police Association

San Rafael Fire Association

Daryl Weinroth, Atty. At Law

American Legion Wilkins Post 37
International Footprint Association

William H. Donner Foundation

Congregation Rodef Shalom

Kentfield Fire Department

San Rafael Corps Salvation Army
APPLY
This year, due to the Corona Virus, we have partnered with the Salvation Army and will not be accepting any new applications for 2020.
If you were enrolled in the 2019 Santa Cop Program you will automatically be enrolled this year. All 2019 applicants will receive a call from the Salvation Army verifying your your information is up-to-date and will be explained on how this year's program will work.
If you have a question, please call the Hotline: 415-456-2685
DONATE
Financial Donations:
In addition to our toy drive, we now accept financial contributions by check only.
San Rafael Santa Cop is a not-for-profit charitable organization as defined in section 501 (c) (3) of the Internal Revenue Code (Tax ID 20-5006892). Donors may deduct contributions to the San Rafael Santa Cop organization as provided in section 170 of the Internal Revenue Code. Bequests, legacies, devises, transfers, or gifts to the San Rafael Santa Cop organization are deductible for Federal estate and gift tax purposes if they meet the applicable provisions of sections 2005, 2106, and 2522 of the Internal Revenue Code.
Checks may be made payable to San Rafael Santa Cop and mailed to:
San Rafael Santa Cop
P.O. Box 6221
San Rafael, CA 94903-6221
Our 501 (c)(3) Tax ID is: 20-5006892
Toy Donations Pick Up:
Call the Toy Barrel Hotline at 415-870-4016 to arrange a pick up or use the email links below.  Click here to contact Dan Hanlon to arrange for a pickup.
Toys Needed:
Kids need all sorts of toys! New unwrapped TOYS and GAMES for infants to children of 12 years. (No toy weapons please)
Help us keep the magic of Christmas Alive for the Children!
Infant toys: Fisher Price Laugh & Learn, Baby's First Blocks, VTech toys, Leap Frog & Little Tykes toys.
Girls 2-5: Disney Princes Dolls, Baby Alive Doll, Picachu toys, Mickey Mouse, Peppa Pig
Girls 5-9: Disney-Pixar Coco toys, Fingerlings, Pikmi Pops, NumNoms sets, Glimmies, Shopkins, Trolls, DC Hero Girls, Barbie, American Doll
Girls 9-12: Bracelets, Necklaces, Earring sets, Hats & Gloves, Backpacks, Nail Polish, Hair Accessories
Boys 2-5: Fisher Price Toys, Paw Patrol sets, PJ Masks, Thomas & Friends, Little Tykes Basketball set, Dinosaurs, trucks, cars
Boys 5-9: Star Wars, Transformers, Power Rangers, Pokemon, Lego Star Wars & Lego City sets, Bey Blade, WWE Figures
Boys 9-10: Backpacks, remote control cars or helicopters,
Boys 11-12: $20 Gift cards from Amazon, Target, iTunes cards or Movie passes
Games: Pie Face, Simon, Bounce Off, Candyland, Chutes & Ladders, Hed Banz, Rubix Race, Guess Who, Apples to Apples, Word on the Street
Arts & Crafts: Crayola Masterworks kits, Crayola Ultimate Art Supply kit, crayons, coloring books, paint sets, Play Doh sets, cutie Stix Cut & Create, Young Artists sets
2020 Barrel Locations:
San Rafael Station 51
1375 Fifth Avenue
San Rafael Station 52
52 Union Street
San Rafael Station 54
46 Castro Street
San Rafael Station 55
955 Pt. San Pedro Road
San Rafael Station 56
30 Del Ganado Road
San Rafael Station 57
3530 Civic Center Drive
Marinwood Fire Station 58
777 Miller Creek Road
San Rafael
Kentfield Fire District Office
1004 Sir Francis Drake Blvd
Kentfield
ABOUT SANTA COP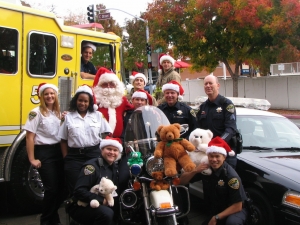 The program was interested in helping children who were missed by other programs, and who were not going to have Christmas due to circumstances beyond their control. The Police and Fire Departments, through their community contacts, are familiar with children who are from families with difficult financial situations as well as difficult family situations. The high cost of living and jobs with lower pay rates in San Rafael cause added burdens of raising a family in this area.
The San Rafael Police Department, San Rafael Fire Department, and the North Bay Footprinters saw this need to help these less fortunate children. They formed a group that collected toys and food and distributed these at Christmas time. In the second year of the program, money was collected to buy a s
WRAPPING PARTY
We regret to announce that this year's Wrapping Party has been cancelled due to the concerns with COVID-19.  From the bottom of all of our hearts, we want to thank our faithful volunteers for always coming to help "shop" and wrap for our families.