San Rafael Police Association

San Rafael Fire Association

Daryl Weinroth, Atty. At Law

American Legion Wilkins Post 37
International Footprint Association

William H. Donner Foundation

Congregation Rodef Shalom

Kentfield Fire Department

San Rafael Corps Salvation Army
APPLY
The 2022  Santa Cop Program is FULL! 
We are no longer accepting applications.
DONATE
Financial Donations:
In addition to our toy drive, we now accept financial contributions by check only.
San Rafael Santa Cop is a not-for-profit charitable organization as defined in section 501 (c) (3) of the Internal Revenue Code (Tax ID 20-5006892). Donors may deduct contributions to the San Rafael Santa Cop organization as provided in section 170 of the Internal Revenue Code. Bequests, legacies, devises, transfers, or gifts to the San Rafael Santa Cop organization are deductible for Federal estate and gift tax purposes if they meet the applicable provisions of sections 2005, 2106, and 2522 of the Internal Revenue Code.
Checks may be made payable to San Rafael Santa Cop and mailed to:
San Rafael Santa Cop
P.O. Box 6221
San Rafael, CA 94903-6221
Our 501 (c)(3) Tax ID is: 20-5006892
Toy Donations Pick Up:
Call the Toy Barrel Hotline at 415-870-4016 to arrange a pick up or use the email links below.  Click here to contact Dan Hanlon to arrange for a pickup.
Red Toy Barrel Requests:
Friday, November 18th and Saturday, November 19th, the Red Collection Barrels go out.  If you would like to host a barrel at your office or for your holiday party, please call the Toy Barrel Hotline at 415-870-4016 to request a barrel
Toys Needed:
2022 Santa Cop Children Wish List
  Help us keep the Magic of Christmas Alive
 for the Children and help make their wish come true!
Infant – 18mo:  Fisher Price Laugh & Learn, Baby's First Blocks, VTech toys, Leap Frog & Little Tykes toys.
Girls 18mo-3yrs:  LOL dolls, Disney Princess Dolls, Barbie,  Pikachu Toys, Mickey/Minnie Mouse, Peppa Pig, Doll Strollers, Kitchen Toy Sets, Play Dough Sets, Puzzles, Large Box Crayons, Coloring Books,
Girls 3-5yrs:  Barbie Dolls & accessories, ABC games, My Little Pony, Paw Patrol, Girls Lego Sets, Magnets, children, books, backpacks
Girls 6-9yrs:  Unicorns, Backpacks, Disney Princess Dolls, Jewelry Making Kits, Juicy Couture kits, Hair Accessories, Puzzles, Crayola Super Markers, Color Markers, LOL Dolls, Play Dough Sets, Board Games, Pop-It, Drawing Tablets & Color Pencils, Girl Lego Sets
Girls 10-12yrs:  Hats & Gloves, Nail Polish Sets, Hair Accessories, Creatology Deluxe Studio Sets, Creatology Portable Art Totes, Creatolory Artist Easel Set, DIY Friendship Bracelet Making Kit, Mini Art Sets, Artists 126 Pc. Painting Set by Loft, 126 Pc Drawing Art Set by Loft
Boys 18mo-3yrs:  Fisher Price Toys, PawPatrol, PJ Masks, Thomas & Friends, Dinosaurs, Trucks, Cars, Trains, Building Blocks, Construction Toys, Play Dough
Boys 3-5yrs:  Remote Control Cars, Fire Truck Spiderman, Pokeman, Lego Sets, Transformers, Soccer balls, Dinosaurs,  Toy Story, Blocks, Robots, Sonic, Sponge Bob, Hot Wheels
Boys 6-9yrs:  Sonic, Spiderman/ Super Heroes, Soccer Ball, Minecraft, Pokeman Cards, Walkie Talkies, Airplanes, Basketball, Dog Man Books, Captain Underpants Books
Boys 10-12yrs:  Backpacks, Bey Blade, Minecraft, Pokeman Cards, Movie Passes, Painting/Drawing Art Supplies
We've have had a huge request, over 50, for Jewelry making kits for girls and Painting & Drawing Sets for both boys & girls.
2022 Barrel Locations:
San Rafael Station 51
1375 Fifth Avenue
San Rafael Station 52
52 Union Street
San Rafael Station 54
46 Castro Street
San Rafael Station 55
955 Pt. San Pedro Road
San Rafael Station 56
30 Del Ganado Road
San Rafael Station 57
3530 Civic Center Drive
Marinwood Fire Station 58
777 Miller Creek Road
San Rafael
Kentfield Fire District Office
1004 Sir Francis Drake Blvd
Kentfield
ABOUT SANTA COP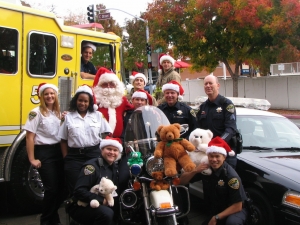 The program was interested in helping children who were missed by other programs, and who were not going to have Christmas due to circumstances beyond their control. The Police and Fire Departments, through their community contacts, are familiar with children who are from families with difficult financial situations as well as difficult family situations. The high cost of living and jobs with lower pay rates in San Rafael cause added burdens of raising a family in this area.
The San Rafael Police Department, San Rafael Fire Department, and the North Bay Footprinters saw this need to help these less fortunate children. They formed a group that collected toys and food and distributed these at Christmas time. In the second year of the program, money was collected to buy a s
Help Build Santa's Toy Store
Come and help us build Santa's Toy Store!  Tuesday, November 29th – Friday, December 2nd  , and Monday, December 5th –Friday, December 9th  
(Hours of operation are 10:30am – 4:30pm.)
If you and your friends would like to volunteer to sort toys, please send an email [email protected].
THE TOY STORE &
WRAPPING DAY
This year we are going to try something different and will open our doors for two days starting on Tuesday, December 13th and Wednesday, December 14th. The Wrapping Party will be at the Army National Guard Armory at the Marin Civic Center.  Everyone is invited to come and help make the smiles happen!  Our hours of operation are 10:30am to 4:30pm.